We hold a regular series of exhibitions
Members who regularly* attend the society's weekly meetings, get involved and contribute, are entitled to exhibit their paintings in our exhibitions and submit work for inclusion in our website gallery.
(*min. once a month)
Our Brinscall H.Q. has a permanent exhibition which is changed at regular intervals.
New Exhibition Venue – Brockholes Nature Reserve, Preston New Rd, Preston PR5 0AG
Lodge Artists have been invited to stage an exhibition of 18 original paintings in the Ice Cream Parlour at Brockholes throughout August and September this year. All works are for sale and subjects are flora, fauna and wildlife.
Exhibitions for 2018
Avant Garden Centre, Leyland 22 February 2018 – 29 March 2018
Café Ambio, Astley Park 2 April 2018 – 4 June 2018
Farmhouse Gallery, Astley Park  29 June 2018 – 29 July 2018
Brockholes, nr. Preston 2nd August 2018 – 2nd October 2018
One Day Exhibition, Brinscall HQ 23 September 2018
Café Ambio, Astley Park 3 September 2018 – 26 November 2018
40th Annual Exhibition, Astley Park – 1st December 2018 – 30 December 2018
39TH ANNUAL 
ART EXHIBITION 
The Farmhouse Gallery, 
Astley Park, Chorley – results…
The Ray Landless Trophy, 'Best in Show' was won by Rosie Rimmer for her oil painting 'The Pike'.
The Ron Hobson Wildlife Trophy was won by Sue Barnes for her acrylic painting 'Sunny Supper'
and the John Buckles Memorial Trophy for best pastel went to Val Jones for her 'Trees at Sunset'.
Six 'highly commended' awards were made to:
Janet Cardwell for 'Summer Dawn' mixed media collage,
Kevin Fowler for 'The Space Between', acrylic
George Horsfield for 'Farmer in the Dell', oil,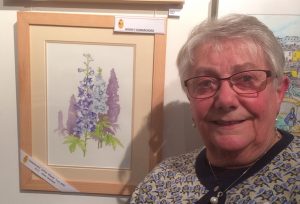 Anne Sandwell for 'Delphiniums' watercolour,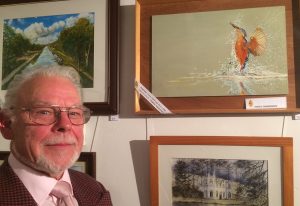 Stephen Sidebotham for 'Kingfisher' laquered acrylic